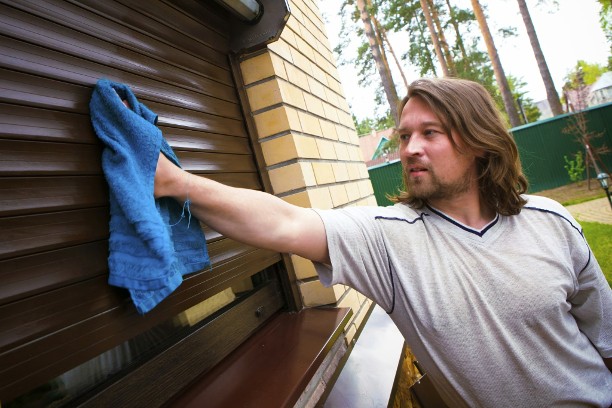 Shutters are used to add character and cut down on strong sunlight and now often used as a smart alternative to blinds and curtains, shutters can become more unsightly than decorative if dust and grime accumulate.
Instructions on cleaning shutters by ParadiseCleaning:
Method 1. General cleaning
Step 1. Dust every month on both side with soft brush attachment of your vacuum cleaner.
Step 2. In between, touch up with a micro fibre cloth or feather duster.
Method 2. Cleaning indoor shutters
Step 1. Remove them from their hinges.
Step 2. Spray with a gentle all-purpose cleaner, taking special care to penetrate the cracks and crevices.
Step 3. Allow the cleaner to sit for five minutes.
Step 4. Wearing rubber gloves, start cleaning at the top and work towards the bottom.
Step 5. Clean the slats with a towel, your rubber-gloved fingers or a small soft-bristled brush for nooks and crannies.
Step 6. Use a trigger spray bottle filled with warm water to spray away dirt and other grime from the slats. Using a dry cloth, dry the slats one at a time.
Step 7. Reach hard-to-dry areas with a rag wrapped around the handle of a wooden spoon.
Method 3. Cleaning outdoor shutters
It is basically the same operation - with a few refinements.
Step 1. Remove the shutters from the outside walls and lay them flat or prop the against a secure support.
Step 2. Wet down the shutters with all-purpose cleaner or a spray bottle of water with a squirt of washing-up liquid added.
Step 3. Leave the cleaner on for a few minutes.
Step 4. Use a screwdriver, wrapped in a towel, to attack hard-to-reach spots.
Step 5. Rinse with a garden hose, using as much water pressure as your hose can muster.
Step 6. Dry the slats with a towel / Let them finish drying in the sun.
Customer Notice: Our home cleaning experts never mix cleaning substances due to following high safety standards.
If you still wonder how to clean your shutters, contact us:
ParadiseCleaning
Flat 3 Kensington court
108 Manor Road
Wallington, Greater London SM6 0DW, United Kingdom
+44 800 772 3616