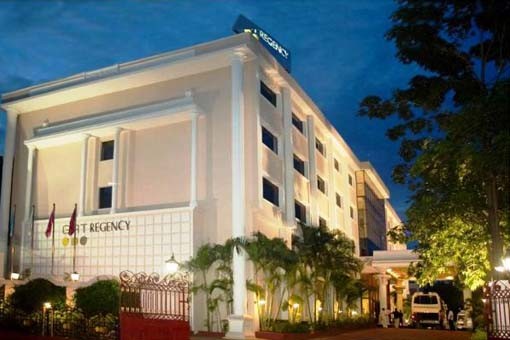 Tamil Nadu is a prominent state of India. It is a large state and home to a mass of tourist destinations. Housing a number of hill stations, wildlife sanctuaries, and some of the most developed urban cities, the state stores a perfect destination for every traveler. Visit the destinations for a fun vacation, and pick your choice from the best hotels or cheap lodges. Such as, GRT Grand Chennai, Taj Coromandel Hotel Chennai, and GRT Regency Sameera Vellore.
Tamil Nadu, one of the most influential states on Indian mainland, is a south Indian state popular for being one of the four "Dravidian states of India". It is a large Indian state having an area of 130058 sq. k.m. The capital of the state is Chennai, which is one of the four prime metropolitan in India. The cities of the state are rapidly gaining prominence in the world-stage in various domains like industries, culture, education, and healthcare etc. Replete of every parameters of modernization, these cities are amongst the best places to live.
Tamil Nadu is one of the chief states in Southern India and is the proud owner of a history that is over 4000 years old. It is home to some of the most remarkable architectural marvels of which the ancient temples are the prime highlights. There are a couple of temple towns and heritage sites that are simply bliss to the history buffs and the devotees. The fabulous wildlife, national parks, hill stations and scenic beauty of its destinations offer multiple rewarding opportunities to backpackers, best suiting their travel itineraries. Besides, it is also a good thing that once in a while one takes a breaks from the monotonous routine and heads to a destination out of their comfort zone. In fact, this is the best way to gain the actual experience of holidaying.
Home to a living tradition of art, music, folk arts, dance, and fine arts, the destinations of the state are best when explored and discovered. The state perhaps has the country's largest tourism industry which grows at 16 percent, annually.
The choice of lodging is one important part of vacationing that hugely impacts the tour of Tamil Nadu destinations. There exist a mass of hotels, cheap lodges, resorts, and hostels in the state. Of those, following are most preferred-
GRT Grand Chennai –
Located on one of the prime commerce centres of Chennai the GRT Grand Chennai is a luxury hotel complete with every basic as well as luxury amenities. It is an ideal stay option for both a leisure traveler and a business traveller. The Chennai International Airport is 9.1 k.m. away. The hotel also provides airport pick a drop service. Since the hotel is located in the capital city, accessing every tourist destinations of the state is an easy affair.
Alankar Grande Hotel, Coimbatore –
It is one of the top rated hotels in Tamil Nadu. It is located at the heart of Coimbatore city, which is one of the most-popular tourist destinations in the state, the hotel is known for its courteous staff, warm hospitality, and satisfactory stay. It is one of the best budget hotels in Coimbatore ideal for both, leisure and business travelers.
GRT Regency Madurai –
It is a popular 3 Star hotel in Madurai offering comfortable stay to its guests at a reasonable price. Offering a home like ambiance it provides a wide array of amenities and services. The hotel GRT Regency Madurai is located at Madakkulam Main Road and is well-connected to all popular tourist destinations of Madurai.
Some of the other popular hotels across Tamil Nadu include: Taj Coromandel Hotel Chennai, , Park Sheraton and Towers Hotels Chennai, Hotel Atlantic Chennai, and GRT Regency Kanchipuram.