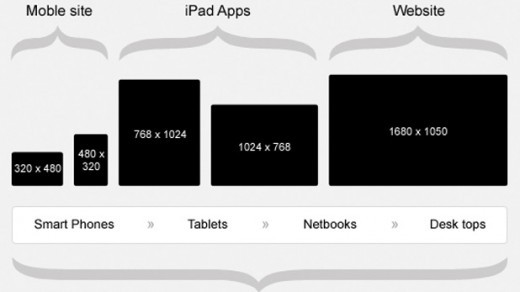 The most noteworthy trends for the future of web design
The adaptive web design remains the most noteworthy trend. The web is one of fastest developing industries. During 2014 was registered a very fast growth in adaptive web design, and in the year 2014 this technology will have a priority. Those websites, whose design is not oriented towards an easy navigation, which takes into account all the possible devices, will lose a large part of its auditory.
Following in the footsteps of all large companies that have already adopted this technology, small and middle size companies will consider it too in their desire to retain and enlarge their popularity. What is more, the use of adaptive web design will put an end to the individual setting of a website for each supported device.
Orient yourselves to smaller in size websites but better optimized.
The average size of the web pages created in 2013 goes beyond 1 megabyte. Most of the designers think that this is too much, but today this problem is already dealt with and the webpages being created are far lighter, faster and with superior performance. One of the methods for reducing the slow loading of very large webpages is not to use frameworks when dealing with simple tasks.
iPad with lose its leadership position in respect to tablets.
The developers of application software will refrain from the iOS applications for the reason that tablets with the Android and Windows operating systems will rise in popularity. The applications developed for these operating systems allow for the use of the much more advanced HTML5 which makes them universal for all types of devices.
The need for such applications will only increase.
The lack in performance for some applications will be the reason for the wide adoption of HTML5. Also, due to the large amount of devices being developed by many companies, each device required its own application in order to function properly. Today we have a range of applications that work equally well with a range of devices.
The clash of the experimental and interactive design.
The new ideas in the area of design for web products will be the result of maintaining the CSS network and preprocessors, and the development of the more widely used adaptive design. The practice of giving a start to a project without it being completely developed is gaining popularity. In these instances, the products start to generate revenue early in their creation, and their development continues in the near future.
The hybrid design gains popularity.
The adaptive web design will lead to an increased cooperation between programmers and designers, which will give rise to the so-called hybrid designers. Their work will be oriented towards better programming techniques.